Ultimate young professionnals
{{ group }}
{{ object.name }}
{{ object.name }} {{ object.subheader }} {{ icon.replace(/^icon_/, '') }}
{{ label }}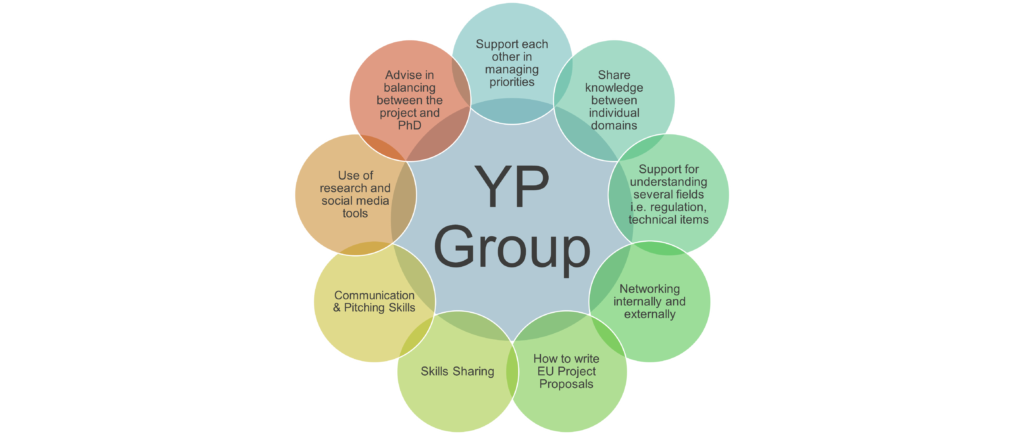 The ULTIMATE Young Professionals group is aiming to convene young professionals, like PhDs, postdocs and early careers – who are actively contributing to ULTIMATE. The aim is to bring about added value of being a part of the project through networking and other activities, e.g. meetings, blogs, etc.
Learning & Skills Building
Meeting Preparations & Implementation
Expertise Database for Collaboration
Young Professionals Bios
LinkedIn Group for Sharing
Key Topic Areas for Collaboration
Where did Young Professionnals identify areas to work on as a group? 
Support each other in managing priorities
Share knowledge between individual domains
Support for understanding several fields i.e. regulation, technical items
Networking internally and externally
How to write EU project proposals
Skills sharing
Communications & pitching skills
Use of research and social media tools
Advise in balancing between the project and PhD
EU Sister Projects – Connecting Young Professionals!
Circular Economy Projects 
ULTIMATE, B-WaterSmart, Water Mining, REWAISE, and WIDERUPTAKE
Connecting Young Professionals and Project Groups 
Identify synergies and develop an agenda for the next years
Facilitate the exchange among the young water professionals
Give them the opportunity to present their current research to and todiscuss with more experienced scientists in that field (inside or uutside our consortia)
Organise helpful workshops, e.g. on publishing scientific results, application of certain methodological approaches, etc.